Fire Pump Introduction
A fire pump is a kind of pump that is used for moving water to manual hose bibs or through fire sprinkler systems in commercial buildings and industrial plants. The pump's intake is normally connected to an external water source, although in some instances it can be linked to a local source of water such as a tank, well or body of water.
The fire pump system, of which the pump is an important component, is meant to quickly supply enough water to effectively put out a fire before it can spread. In most areas, these pumps have to be tested periodically and approved by a local fire inspection agency. They are common in multi-storied buildings that are often too high to be accessed with the pressure of the local water supply, or where there is inadequate fire fighting capacity from the local water supply.
The flow rates for fire pumps generally range from 20 gallons per minute to 5,000 gallons per minute, while total head (pressure) ranges from 100 to 1,200 ft. Horsepower ranges from 10 hp to 800 hp.
Fire pumps and the entire systems are required to meet certain requirements prescribed by the area's fire inspection agency. The requirements are often highly detailed with regards to the mechanical and hydraulic requirements pump, the driver and the controls. The number of approved pump suppliers can be limited depending on your location. Local standards and the owner's insurance requirements must be carefully studied before choosing any type of fire pump as well as supplier.
How it Works?
The fire pump is usually a centrifugal pump that is often powered by an A.C. electric motor or a diesel engine. When a sprinkler in the building detects excessive heat, the pump starts working instantly. In other cases, the local fire regulations may demand that a fire pump must have an emergency generator which acts as a back-up in case of a power failure. Smaller, portable engine-powered configurations are often used in fighting forest fires.
The most common kinds are vertical turbine and horizontal split case. Fire pump applications that require lower flow rates may come with vertical inline or end suction mechanisms. Additionally, many fire systems use a jockey pump. A jockey pump is a small centrifugal pump that operates continuously to ensure the fire system piping is filled and always under pressure. This is designed to ensure that the fire sprinklers will immediately be effective whenever they are turned on and the pump is started.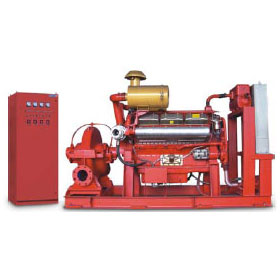 Our fire pumps comply with the demanding requirements of the LPCB, FM and UL approval standards and meet all the requirements of NFPA 20. Experience gained from extreme environments such as off-shore oil & gas installations has led to the creation of the SPP Pumps range of pumps approved for fire protection by the Loss Prevention Certification Factory Mutual Approvals (FM) and Underwriter Laboratories Inc. (UL), all of which are fully compliant to NFPA 20. Our firepumps are widely used in both onshore and offshore industry. Such as, Jetty, FPSO, Oil Rig etc. 
Types of Firewater Pumps:
• Horizontal Splitcase Firewater Pumps
• Horizontal End-Suction Firewater Pumps
• Vertical In-Line Firewater Pumps
• Vertical Turbine Firewater Pumps
• Hydraulic Firewater Pump System
***Our Firewater Pumps can be driven by either Diesel Engine or Electric Motor.

Type of pumps commonly used as fire pumps: